GravityWP is amazed by the wonderful software produced by the community of WordPress, especially the commercial add-ons GravityForms, GravityView, Gravity Flow and Gravity Perks. And of course other initiatives to strengthen the use of WordPress as counterweight to other software developments.
About GravityWP BV
Developer
GravityWP BV
Started
2014
Documentation
gravitywp.com/docs
Listed
gravityforms.com/developers/gravitywp
profiles.wordpress.org/gravitywp/
Add-ons
Advanced Merge Tags, Advanced Number Field, Collapse Field Description, List to Entries, Rename Uploads, Save and Continue, List Field Number Format, JTW Token Prefill, Replicator, Text Field Variables, Update Form, Custom Uploads
Interesting links GravityWP
Our team
Jurriaan Koops
This whiz kid was already programming at the age of 14. After some years of zigzagging between an Electrical Engineering study and a gap year for personal development, he threw himself into a Social Work study. While working with people, computer technology continued to grow. Now he combines social and IT skills into a nice mix within GravityWP.
His students called him 'Master Erik'. But he made no secret of his interest in IT and E-learning and became the school's IT coordinator. Via a number of intermediate steps, he made the leap to the real IT work and started with GravityWP. And with pleasure!
René Serier
René is IT specialist pur sang. After his education in IT, he could immediately start working for an IT secondment agency. He switched to EY in 2006 and witnessed the evolution from fixed telephony to VoIP (Alcatel VoIP) within a European team, which he expanded to a global team of 50 people in Singapore, India, UK, US, Canada and Argentina. 24 x 7 x 365 days responsible for all internal communication within the EU. And yet René decided to make the switch to GravityWP in 2020.
Why we do what we do
As gravity is a natural phenomenon by which physical bodies attract each other, Gravity in WordPress attracts hopefully the right users on different levels to unleash the power and strengthen the software.
WordPress empowers so many people worldwide to decide for themselves what to publish and how. This website combines a few WordPress plugins aimed at making forms and displaying this information. We think this combination can be a powerful one and we hope to make more people enthusiastic about using them.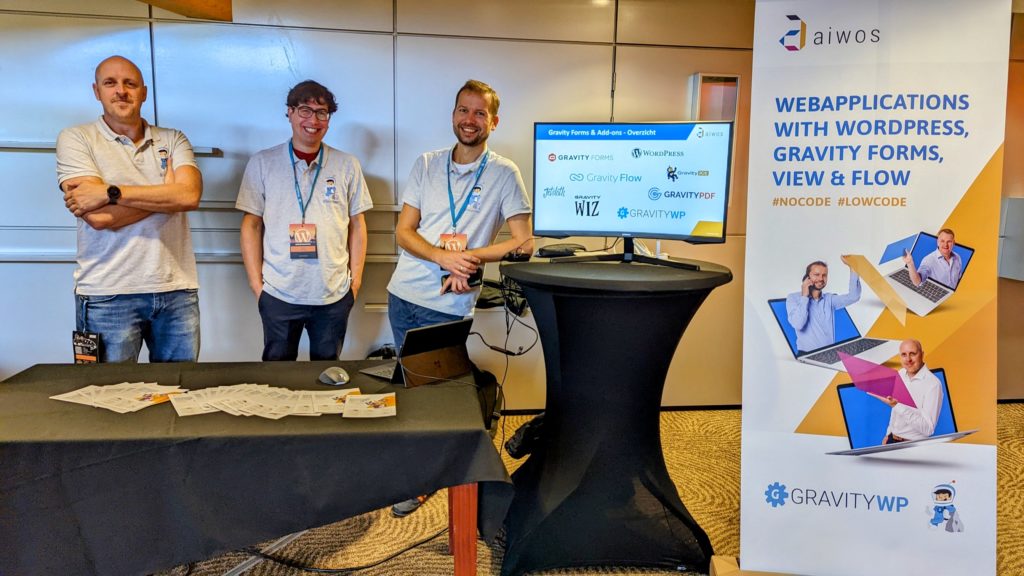 The costs for making and maintaining this website comes from income out of the affiliate links. We use that money to promote the combination of WordPress, Gravity Forms, Gravity Flow, GravityView and other cool addons for Gravity Forms. It also means we don't have to put all kinds of advertisement on the website, which is only annoying for visitors.
GravityWP stands for
Result
The result for our client is paramount. When results are jeopardized by cumbersome processes, GravityWP devises (out of the box) solutions that will speed up your process. We go for the best solutions, even if we have to take an extra step.
Craftsmanship
We are proud of what we make. To this end, we continuously develop expertise and share it with each other and the client. You can count on a high level of commitment and great availability, even outside office hours. We bring the assignments to a successful conclusion, don't leave until our clients are satisfied and remain available afterwards.
Openness and transparency
These values are high on our agenda. That is why we feel at home with open source programs. We make the applications that are built by us freely available to you as a client, without a lock-in contract. You always have the choice whether or not to continue using our services.
Personalized
You immediately sit down with a specialist who listens carefully, analyzes and immediately offers solutions that we can implement. We go for a personal approach, short lines, a high level of expertise and quality.
Good cooperation
We work together with our client and internally as colleagues. We don't do it alone, but together! Together we always find a solution.
Tutorials GravityWP