Gravity Perks by Gravity Wiz LLC provides you with extra, very handy options and functionalities for your Gravity Forms. Perks like Read only fields, minimum or/and maximum amount of words, copying values from one field to another, limiting checkboxes, choices, etc. There are almost 30 useful extensions of the Gravity Forms plugin available now.
About Gravity Wiz LLC
Interesting interviews and links David Smith & GravityWiz
How it works
You download and install the Perks Add-on. This is the main plugin and once activated, it will give you easy access to all the individual perks.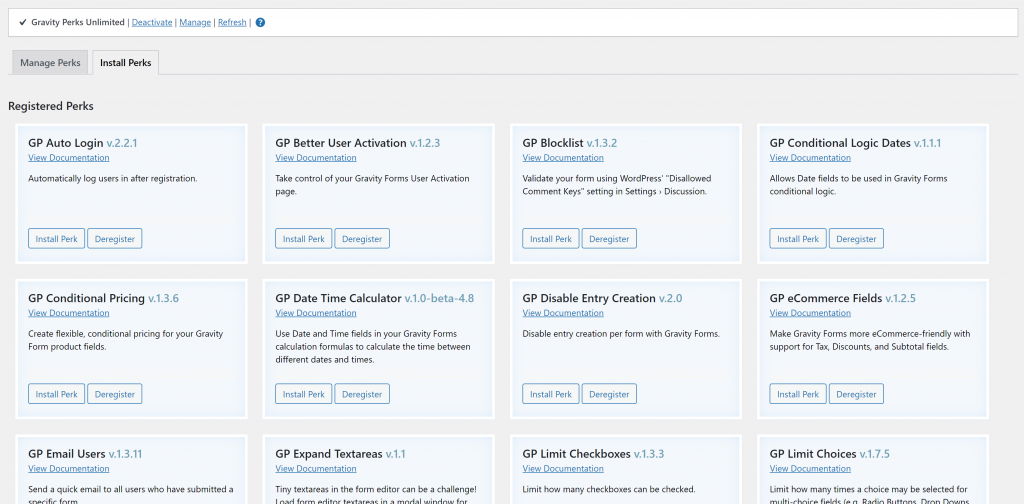 Our favorite Perks
In our projects there are some Perks that we install right away.
GP Preview Submission
Since we're building a lot of Multipage Gravity Forms, the Preview Submission Perk comes in super handy. It allows you to use Merge Tags (and Modifiers) from previous steps inside following steps. To populate standard values of a field or to use inside HTML Fields. Especially when you're building complex forms, it's a must have extension of Gravity Forms.
GP Unique ID
We need to generate unique references for our clients. The must have extension of Gravity Forms is the Unique ID Perk. With it you can generate a unique ID, code, number or combination of numbers and letters for each entry in Gravity Forms.
GP Limit Dates
We have a lot of client Forms with Date Fields with specific dates that are allowed. The Limit Dates Perk let's you configure in a well thought out user interface which dates should be allowed inside the Date Field.
Tutorials GravityWiz